To Men Who Want to Dress Sustainably - But Can't Get Started
There are dozens of us! Dozens!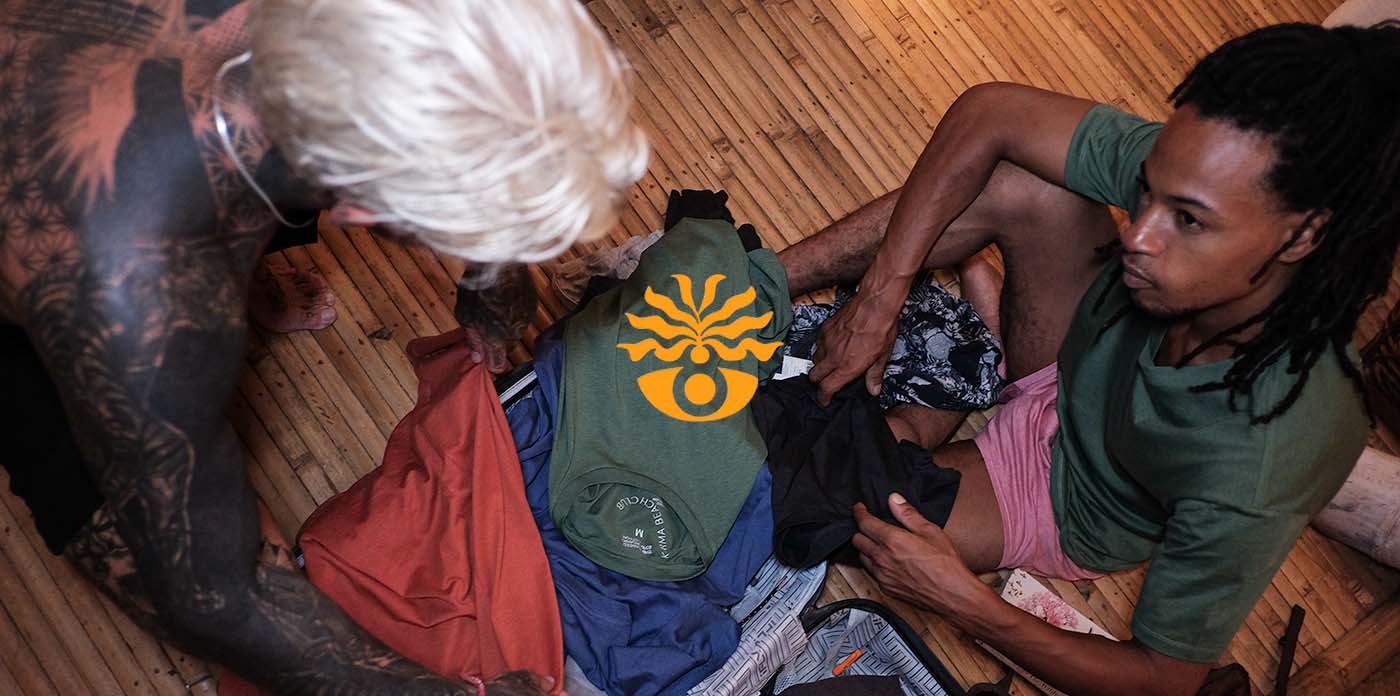 Admitting we have a problem is the first step.
It's easy to feel like what you do doesn't matter. While it may be true that no amount of recycled underwear can counterbalance billionaires flying into space for fun, it's also true that together our pants sport deep pockets.
What you choose to spend money on is as powerful as anything you've ever cast in the ballot box. Dressing sustainably lowers your carbon footprint and sends a message to every clothing company on the planet that your wallet's got a conscience.
There are concrete steps we can take to reduce our impact on the natural world without sacrificing our style, so why not take the pledge?
We're not here to encourage you to cut your credit cards and move into a bus. We're just here to let you know that an earth-friendly closet is easier than it sounds. It can seem overwhelming to switch up your shopping style and find real solutions, but getting started is all it takes.
At the beginning of the trail was the word, and the word was the boss.
Welcome to the Club. 
Kyle is wearing a blue Karma Beach Club Classic Seaweed Tee
PLAY THE LONG GAME.
No, you won't find any fair-trade cotton that can compete with the price tag of a Hanes beefy-T. But you can find plenty of moisture-wicking natural materials that will keep you feeling fresh longer than a six-pack ever could.
There's no sustainable action you can take to fix this mess by the weekend. In fact, we're having so much trouble convincing the world to take action partly because building a sustainable future might mean paying more and using less today.
Dressing sustainably works the same way. Any action we take has to have considerations in five years. That's where your investment in sustainability will pay dividends, and that's the low range of potential lifespans for a quality piece of clothing.
Most fashion brands recommend changing out your underwear drawer every six months. The right sustainable materials can take you six months between washes (probably best not to mention it, though.) By the time you wear out a quality seaweed base layer, your friends will have gone through 10 pairs of cheap shirts.
Plus, many sustainable companies offer repairs and warranties that make a larger initial purchase price safer. Let everyone else save a few dollars today while you spend the extra money on organic materials and all-mighty guarantees that cover your backside for the next decade.
A high-quality, no-questions-asked warranty or repair policy is one of the boldest efforts a company can take. It's one thing to say your socks will last, but actually promising to replace damaged goods is a real endorsement of quality.
To play the long game, you've got to read the label. Every blend that uses spandex or elastane is going to be bad news eventually, as you won't be able to recycle it. Look to replace synthetic materials with organic ingredients and hardy warranties wherever possible.
Kyle is wearing a blue Karma Beach Club Classic Seaweed Tee
DON'T GET GREENWASHED.
An evil council of fashion designers and greenwashed male models are behind every international assassination attempt. While it is encouraging that advertisers are beginning to understand that sustainability is marketable, most companies that talk the talk are still not willing to walk the walk.
Greenwashing is a counterplay to the sustainable fashion movement. It allows PR specialists to dress up their blood diamonds in rose-colored glasses and test fact-checkers' limits. Greenwashing has become a common practice of spending more money on marketing campaigns and catchphrases that feel sustainable instead of actually addressing bad habits.
It's gotten so bad that 53% of shoppers don't even believe companies' environmental claims, and they're definitely right to be skeptical. The practice is rampant.
Specific buzzwords to avoid:
Free Range - you could raise a chicken in the cabinet underneath your sink and still call it free range
All-Natural - even plastic is made from natural materials
Telling me how many plastic bottles went into my T-shirt
Green - A green shirt really brings out your eyes, but A green practice means nothing without some backup
Vegan - This one is tough to swallow, but you'd be surprised at the amount of 'vegan' leather companies that are just a boatload of synthetics.
Eco-friendly - All this means is that their products don't harm the earth, but who decides?
Promising they pay 'competitive wages' instead of living wages
Ironically enough, sustainable - companies like Shein and H&M have hired sustainability ambassadors who apparently couldn't tell them to stop producing billions of shirts that won't last a year
Recycled materials - Anything less than 100% recycled can mean anything.
There is one buzzword to embrace when dressing sustainably: organic.

Organic means the same thing in clothing as it does in your refrigerator. Any clothing that has earned an organic designation sources its fiber from crops grown without pesticides while improving soil health and building biodiverse agriculture.
While you should always research and verify any individual brand's claim of 'organic,' any natural material with organic in front of it is an excellent indicator of sustainability.
What do we do about Greenwashing?
The good news is you shouldn't have to look far to confirm claims. Any company that is really making an effort to be sustainable won't shut up about it. That means you should be able to head right to a company's website and have a solid few pages of information within a few clicks.
Sustainable companies want you to know exactly what they are doing to help. Companies that want to sound sustainable won't have critical information like factory conditions, material sources, and distribution practices readily available. No one who is employing a zero-waste manufacturing policy is going to keep that to themselves.
A quick google search and a critical readthrough of an about me page might tell you all you need to know. You can also let third-party programs do the work for you. Check for bonafide endorsements from watchdog groups like Bluesign, Global Organic Textile Standards, Fair Trade Certified, and others who have put serious efforts into holding producers accountable.
GET OUT OF THE MALL.
This is the most straightforward step on our list. Nothing that comes from JCPenney is going to make the world a better place. If your usual haunts feature tasteful classics and phosphorescent lighting, chances are any promises they make have a big fat asterisk hidden on the poster somewhere.
There's just not much about shopping at a mall that is sustainable, and the space in which clothes are sold should factor into a company's sustainability score.
There may be a sustainable store or two inside of a mall, but there are a few genuinely sustainable brands on Amazon.com, too, but that doesn't mean the entire system is healthy.
Get out of the mall and find a friend of a friend who knows a guy - even if it means shopping online. You'll be propping up a local business while upgrading your wardrobe.
BUY SECOND HAND.
It's never been easier to find second-hand fashion.
Thrifting used to mean spending entire Saturday afternoon's sorting through the local charity op shops desperate to find the one T-shirt that's got some run left - and that's still a great strategy. If you spend enough time at enough cheap thrift shops, you'll slowly build out your closet without putting any money in the wrong hands.
As long as you don't head into a thrift store looking for one specific piece, you'll slowly find top brands and clothes that look and feel as good as new.
Traditional bargain hunting is only for some, but second-hand is an option for every closet. Suppose you don't have a few free hours and several charity shops lining the streets. In that case, online second-hand vendors like Vinted and Depop, Facebook marketplace, and eBay are gold mines.
Another simple option is heading to vintage stores or second-hand curated boutiques that sort through Goodwill's and garage sales nationwide to find the gems.
Some sustainable shoppers swear off these high-end thrift stores, feeling like these stores that charge 80$ for a second-hand shirt have sold out and taken advantage of conscious shoppers.
You can look at this problem in a few ways: Either decide that yes, that's true and spend the time searching through the donation piles yourself.
Or, you can appreciate the ability to pay top dollar for premium clothes that look good without the subtle guilt of traditional fashion.
There are second-hand options that save you time, money, or both, and I'll wager you can upgrade your look while you're at it. Second-hand isn't as good as organic materials (although finding a sleek used organic cotton T might be the most sustainable score possible!) but it's still taking a shirt out of the landfill.
Rome Wasn't Built in A Day…
And your sustainable wardrobe won't be, Either.
No company is 100% sustainable, not even Patagonia. We all have to source our wardrobes somewhere, and until we can plant Bob Marley's face on a T-shirt made out of thin air, we'll have to use resources to make it happen.
You can boil Sustainability down in three ways:
Sustainable
Clothes that have been produced in a way that's kind to the environment, likely by using organic materials, farming practices that promote the health of the farmland and distribution methods that offset carbon emissions through compostable packaging or locally sourced logistics.
Ethically Vegan
Consciously Free from animal by-products, not just because it's convenient.
Fair Trade
Produced by employees making a living wage and distributed without modern slave labor. This is often the corner cut by most companies making big promises.
You'll have to develop your own definition of sustainable to start dressing the part. You can focus on companies that improve the ethical treatment of workers, create carbon-neutral fabrics, eliminate all animal products, or develop more climate friendly fabrics.
There are companies in one of those three categories that make everything you need for four seasons of style.
Even steps as simple as glancing at your shirt tags are a great place to start. Every time you get rid of a piece of clothing, replace it with something recycled, organic, or compostable. Before you know it, your favorite shirt will fit with the comfort and style only peace of mind can bring.